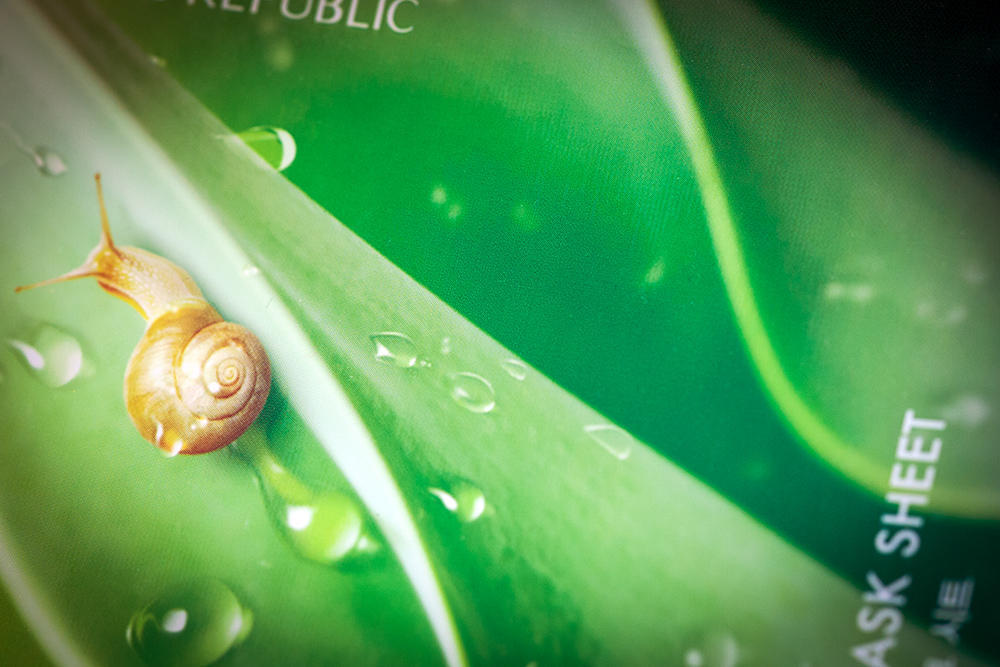 Snail Solution Mask Sheet — is een Koreaans sheet masker dat simpel in gebruik is. Het model is gewoon voor dit soort maskers en bevat alleen maar insnijdingen voor ogen en mond. Sommige andere dergelijke maskers bevatten nog additionele delen voor een nek, oogleden en zelfs voor oren. Dit masker is gemaakt van stof; naar mijn mening, verdampt het vocht hier sneller als bij hydrogel maskers.
Het effect
Je doet het masker aan na het reinigen en een toner voor ca. 15 minuten. Langer heeft geen zin, bovendien, begint het masker af te drogen, en dat willen we niet. Na het masker kun je een créme of een emulsie aanbrengen. Het masker laat geen plakkerig laagje achter, en je kunt meteen de make-up aanbrengen.
Ik kan geen bijzonder effect vermelden. Mijn poriën waren niet kleiner geworden, ik heb geen lifting effect gezien of iets anders noemenswaardig. Het is een leuk masker, maar daar houdt het op. Toch wil ik jullie nog het lijst van ingrediënten laten zien en bespreken.
Water, Glycerin, Butylene Glycol, Myrothamnus Flabellifolia Callus Culture Extract, Lavandula Angustifolia (Lavender) Extract, Portulaca Oleracea Extract, Aloe Barbadensis Leaf Extract, Cucumis Sativus (Cucumber) Fruit Extract, Soluble Collagen, Propylene Glycol, Sodium Hyaluronate, Hamamelis Virginiana (Witch Hazel) Extract, Snail Secretion Filtrate, Carbomer, Xanthan Gum, Disodium EDTA, Allantoin, Betaine, Methylparaben, PEG-60 Hydrogenated Castor Oil, Phenoxyethanol, Fragrance, Triethanolamine
Van het lijst werd het mij wat duidelijker waar dit masker voor geschikt is: hij moet de huid kalmeren. Op de eerste posities direct naar de mysterieuze Myrothamnus Flabellifolia Callus staan de effectieve anti-inflammatoire en hydraterende ingrediënten: lavendel, komkommer, postelein, aloë, toverhazelaar, hyaluronzuur, collageen, allantoïne, en natuurlijk, het helende slakkenextract. Een leuke onopvallende fragrance staat helemaal aan het einde en kan weinig schade toebrengen.
Mijn conclusie
Voor zijn kleine prijs is dit masker best leuk om te proberen. Bij vettige huid denk ik niet dat het masker je huid gaat "overvoeden" bij dagelijks gebruik.