Studio Color Analysis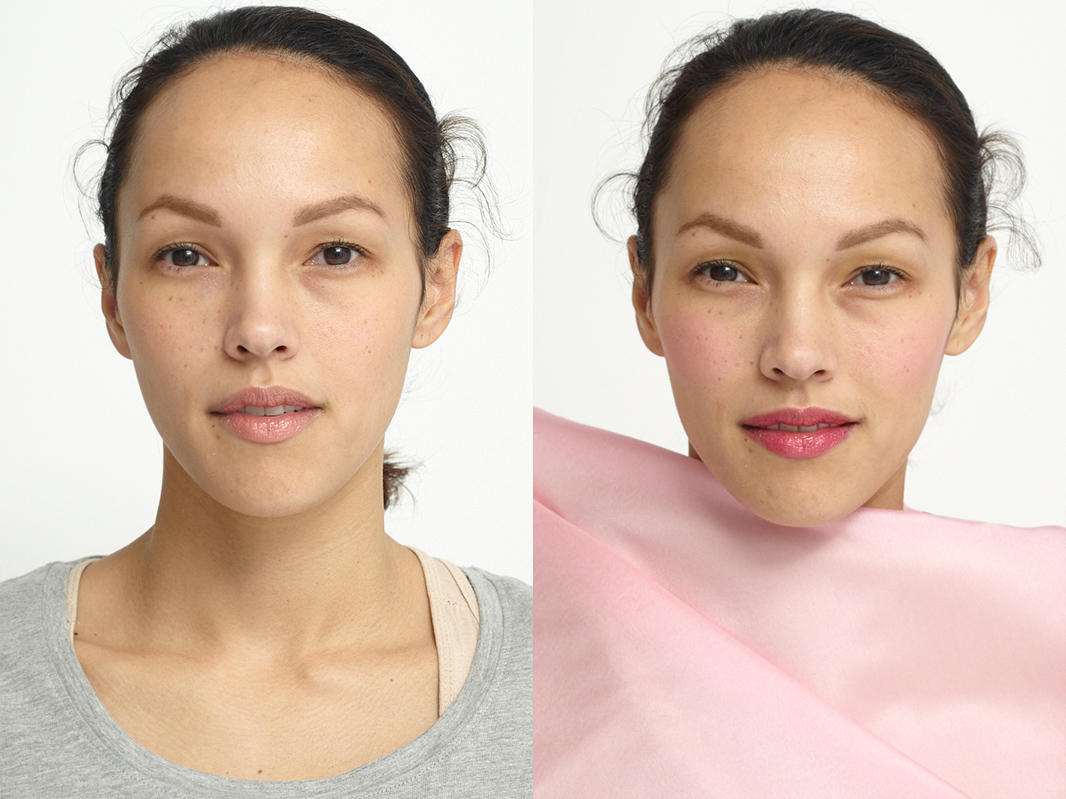 This case is really interesting, because it demonstrates how several factors may affect a PCA decision in a "bad" way. What we see on this not-even-as-bad picture taken with Galaxy and a gray card (a big plus if you take your own images for a Virtual Color Analysis!), is very warm complexion, dark eyes, warm (almost reddish) eyebrows and warm-brown hair. All that together just shouts "autumn", doesn't it? Well, read on to be surprised!
Live Cool/Warm draping in front of mirror together revealed Cool side to both of us. Looking at Jessica's clear skin and how vibrant she looks in white, I started to think it was Winter, probably the Bright one. However, I wasn't completely happy with black. Our previous lady, Jasmyn the Dark Winter, actually looked rather sophisticated in black. Here, I must say I find dark color a bit heavy.


So I eventually arrived at the test between Light Spring, Bright Spring and Bright Winter. Light Summer blues and greys were lovely, and concidering Jessica likes very neutral style in her clothes, I think she could actually shop in Light Summer "mode", but of course she looks most radiant in Bright Spring colors. Winter brights and darks are too much for her, or at least so I'm seeing it. For example, of these pinks, I love the freshness of lighter pinks the most. I liked gentle pink fabric and blush so charming I almost asked Jessica to stay over for a beauty shoot 🙂
Bright Spring is closest to Bright Winter, but is more gentle and warm, no heaviness. Jessica should probably avoid too warm spring colors, like the orange below. Bright Winter is beautiful if we want to add more definition to the face. You can see below that Winter faces are more pronounced, and the eyebrows are defined, while Spring faces have more charm and delicacy. The question is, do we want to draw attantion to eyebrows? Jessica probably doesn't, and in that case she must choose a softer vesion of Bright Winter. Bright Spring accepts the task if she stays on a cooler side of it.
When comparing Summer to Spring, and Winter to Spring, I also got this feeling like her eyes are more sparkling in Spring. It's funny, all images are shot with exactly the same light.
This is also a case of a compromise: BWinter – BSpring test shows that skin itself looks clearest in BW. Skin is simply ideal in Bright Winter. But the essence of the person comes better out in Bright Spring.
The 1.5 hour Color Analysis session in our studio revealed the best and not-so-good colors for beautiful Jessica. After accurate shooting and extensive post-shoot side-by-side testing, we've determined that Jessica is closest to a very early Bright Spring – almost Bright Winter, although she could also wear some colors from Light Summer in case Bright Spring is too daring for her to start with. Bright Winter color are good (like I said before, they are perfect for skin), but in general the brightest are too dominating, and black is too harsh and serious. Spring pink is amazingly refreshing alongside with fresh pink lipstick!
Within days from the session Jessica received a 3-page Color Analysis conclusion with testing results, PCA advice and makeup advice. She of course received all images with various variants. She can use the images for self-reliant analysis. Or she can show the images to her stylist / tailor / makeup artist / hair colorist / photographer and to her friends (fun!). Jessica also received this beautiful shopping advice collage from her favorite shops. The collage contains daring colors, although the advice for everyday look would be softer colors.